When you think of the Mediterranean diet and other diets in general, you tend to think of the health impacts on those that eat it. One thing that does not always come to mind is how specific diet choices affect the environment. In this time of climate change, understanding how diet choices impact the environment, and in particular carbon emissions or "carbon footprints", is just as important as how it affects us as individuals.
A new study in the Journal of Health Services Research & Policy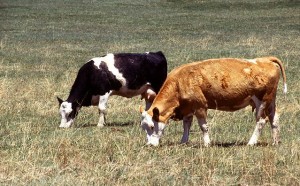 aimed to evaluate the carbon footprints of various diets in the setting of a Spanish hospital, in a preliminary attempt to possibly provide menu change recommendations in other industries.
Diet data was collected from Juan Ramón Jiménez Hospital in Huelva, Spain. In addition to the typical diet found at this hospital (one weeks' worth in the winter), information on 17 other therapeutic diets published by Benidorm Clinical Hospital was used for this analysis.
Carbon footprints for each diet were calculated using Life Cycle Assessment measures. The Life Cycle Assessment measures all inputs and outputs in a particular system from "cradle to grave". So, for example, for a meat-based diet, it would include everything from raising the farm animal and all the equipment, labor, and energy that goes into that all the way through slaughter, packaging, shipping, and eventually cooking and preparing would be included.
Important Findings:
Carbon footprints of diets do not vary with the seasons.

In other words, the carbon footprints for diets in the spring were the same as in the summer, fall, and winter.

For four daily meals, the average carbon footprint of the "typical" hospital diet was 5.083kg CO2 Average caloric intake for this diet was 2000kcal.
High-protein diets had greater carbon footprints than other diets (8.112kg CO2 eq). Average caloric intake for this diet was 3300kcal.
Diets lower in protein content (like a Mediterranean-style diet) averaged lower carbon footprints than diets higher in protein (like a more Western-style diet).
The results of this study indicate that diets higher in protein have higher carbon footprints than other diets. Additionally, diets lower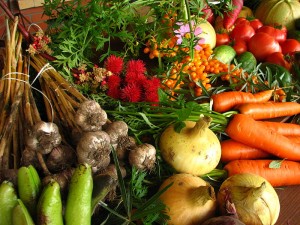 in protein, like in Mediterranean-style diets; have lower carbon footprints than their high-protein counterparts.
These differences are almost entirely attributed to the production of meat for the high-protein diet, as it is known that it takes significantly more energy in general to raise and produce meat than it does vegetables or other lower energy food items often found in Mediterranean-style diets.
Source:
Vidal, R., Moliner, E., Pikula, A., Mena-Nieto, A., and Ortega, A. 2015. Comparison of the carbon footprint of different patient diets in a Spanish hospital. Journal of Health Services Research & Policy 20(1): 39-44.