BECCA L. YEAMANS-IRWIN; Co-editor:
Becca L. Yeamans-Irwin, is a freelance wine writer and biomedical scientist with extensive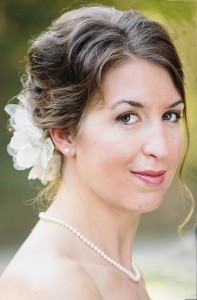 research and laboratory experience in clinical research trials in immunology and neurology. Educated in environmental sciences, she is the author of several papers in peer-reviewed journals.
She was born and raised in the Northeast Kingdom of Vermont, and also freelances as a writer specializing in the Environmental Sciences as well as the world of wine, enology, and viticulture.
She received her Bachelor of Science in Biology in 2004 from Saint Michael's College in Colchester, Vermont and her Master of Science in Environmental Sciences (with a focus in Ecology) in 2011 from the University of Virginia in Charlottesville, Virginia.
Her undergraduate research focused on species diversity of ants and other ground-dwelling macroinvertebrates in fragmented habitats caused by human interference, with implications for using ants as potential indicators of environmental health.
This work has since led to several published articles in peer-reviewed journals.
Her graduate work at the University of Virginia resulted in her excelling in course and laboratory work throughout the disciplines of geology, atmospheric science, hydrology, and ecology.
Her strong writing and research skills led to successful grant applications to fund her Masters' thesis, entitled "Ecological and Evolutionary Shifts in Pollen Chemistry and Their Implications for Pollinators", which shed light on some of the important questions in the field of pollination evolutionary ecology and is a key contributor to the study of pollen nutritional quality for bees.
Her research experience extends from the Environmental Sciences to biomedical research and also clinical research. While working in a Harvard Medical School-affiliated Immunology laboratory in Boston, MA, her hard work and dedication to the world of research led to her establishment of a human-to-mouse skin transplantation model to study burn-injury; a first for the laboratory.
Her vast research experience has also included managing and administering clinical research trials in Neurology, specifically focused on symptom management and therapies in Multiple Sclerosis.
Aside from published peer-reviewed journal articles based on her past work, Becca's passion for writing took off with the establishment of her blog, The Academic Wino.
The Academic Wino is a highly technical blog, and is dedicated to dissecting and reviewing current research in enology and viticulture, while providing insights and thoughts on the current state of research related to wine.
The articles reviewed span nearly every aspect of academia, and provide a public forum to discuss the state of research related to wine. She is also a freelance writer for several wine-related online publications, in addition to managing her own personal blog.
Becca Yeamans-Irwin lives in Boulder, Colorado with her loving husband, their four-legged friends; Crystal the Golden Retriever, and Cassie the cat who thinks she's a dog.
When she's not up to her elbows in peer-reviewed scientific journals, she can be found spending time with her human and animal family at a winery, microbrewery, or up in the mountains.
For more, please visit her LinkedIn profile by clicking here.